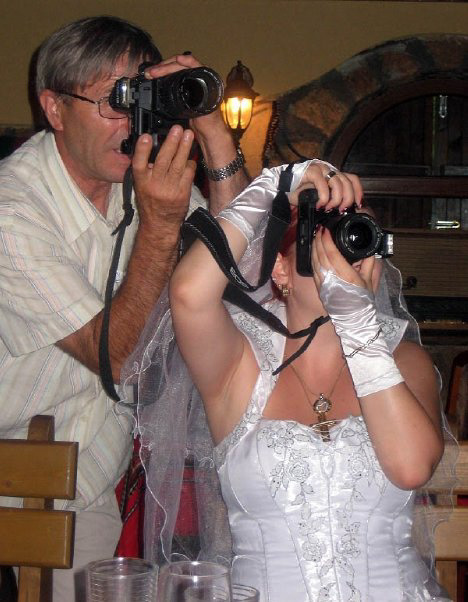 This is me, back in
2007
- a bride passionate to photograph her dancing guests!
At the time I was working as a professional photographer, but I still hired a wedding photographer for my own wedding. I insisted on hiring a specialist photographer, because I appreciate the value of quality photographs and the importance of the wedding day. You can save money on other details, but your memories are worth investing in! 
My photographer was assigned the ceremony and studio portraits, and the after-party was my time to have fun and take photos of my family and friends.
I know how special your wedding day is. Let me be your Photographer, so you can enjoy being the Bride / Groom!
The truth is, there are many wedding photographers in your city! 
How to select the best photographer for your needs?
You will find lower offers, but
you will hardly find a better service
. My top priority is service and product 
quality
- from the investment in my equipment, continuous education to the advanced retouching techniques I apply to my images. I strive to deliver to my clients
high-end wedding photography service and polished final product
. I do not offer "shoot and burn",
all my images are retouched and beautiful
, so you can enjoy watching them and proudly share them. When you go to a restaurant you don't ask for ingredients, you want your food cooked by the Chef! So please do not ask for unedited photographs.
Top Quality Photographs
- Every little detail is retouched on your selected gallery.
Supportive Professional
who listens to your needs
 - Did I mention that I am also a mental health counsellor, that's a bonus ;)
To feel like a Fashion Model during the photo shoot
 - I do
Lifestyle photography
, which means I will guide you in posing, while observing your natural movements and expressions, so you can reveal your most appealing features.
Work with a true professional
 - I photograph since 2007 and have studied Photography in college. In all my work I consider elements like composition, colors, movement & emotion. All will bring all the necessary equipment to produce your dream image, by creating a studio on location.
(BTS photos to be posted soon).
VIP Service
 - I take every wedding as my biggest responsibility, I make sure you enjoy your day and I go out of my way to help the day run smoothly, as if it was my own wedding!
Reliability
- I heard horror stories about photographers cancelling a wedding last minute. I guarantee you that I will be there, and in case of an emergency I have at least 3 talented colleagues ready to replace me.
Transparency
-
Honesty is one of my most precious values. There are no hidden fees for my services. After we agree on a quote, I will send you a contract with all details, along with a receipt.
Affordable prices
- If you think it's expensive to hire a professional, wait until you hire an amateur! Consider how much you will spend on your wedding. This is a unique event, you can't afford to miss the important moments. 
Hire one of the best
!
Support the local business
 - Large companies exploit photographers by paying them low hourly rate and keeping all profits to themselves. By hiring your photographer directly you support the local business in your community! You also access higher quality service.